Is it too late to learn to ski?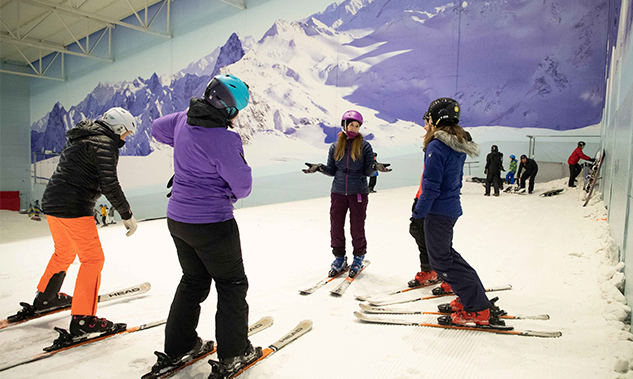 Heading to the slopes this winter for your first skiing holiday? You may be thinking, is it too late to learn to ski ahead of the season?
We can assure you that it isn't too late to learn how to ski ahead of your holiday and that you won't be spending most of your holiday learning how to ski, despite many people thinking it's a daunting activity that will take days to learn the most basic of skills. You can easily learn to ski ahead of your ski trip by taking lessons and practicing exercises that will help you prepare your body for skiing.
How long will it take to learn how to ski?
When starting to learn any new skill people are always interested in knowing how long it will take them to get through the basics and become independent in practicing their new found skills. If you are starting to learn how to ski, you will find that it will take you between 1 to 3 days to develop your basic skills and around 1-3 weeks to build your confidence on the slopes and become more comfortable with skiing. When learning how to ski it is important that you spend time learning different aspects such as how to put your ski boots on and find your feet on the slopes to ensure you can ski independently when out on the mountains.
Gaining the confidence to ski
For many people, the idea of learning how to ski can come over as being a scary and daunting experience. It is often found that people struggle with building their confidence when it comes to skiing, whether it be struggling to carry out basic ski moves or being scared to attempt a particular ski run. You can build your confidence when skiing by doing the following:
Go skiing during quieter times - this will give you the chance to practice and develop your confidence when the slopes aren't too busy.
Go with the right people - if you go skiing with competitive people you are more likely to struggle with building your confidence on the slopes.
Take the changing conditions into account - be aware that changes in weather conditions can cause the slopes to be more slushy and icy.
Look for shorter challenging routes - this will give you the chance to practice a harder slope without being stuck on it for a long time if you don't feel comfortable with it.
Swap between difficulty levels - keep changing between harder and easier routes to challenge yourself but also give yourself a chance to practice the skills which you are comfortable with.
Preparing to ski at home
If you want to learn how to ski quickly ahead of your holiday you can speed the process up by preparing your body to ski by practicing simple exercises. These exercises will help you to develop your key skiing muscles and core helping your body to adapt to skiing. We recommend that you practice the following exercises:
Planks
Squats
Wall squats
Squat jumps
Lunges
Is it too late to learn how to ski?
It's never too late to learn how to ski! Whether you're worried that you've left it too late to learn how to ski before your trip to the Alps, or left it a little too late in life, you can be rest assured that you haven't. Skiing is a skill that can be picked up in a short space of time by all ages, no matter your ability levels. And the skiing experts at Chill Factore are here to help!
Learn how to ski at Chill Factore
Make sure you know how to ski in time for your trip with skiing lessons at Chill Factore in Manchester. Our highly qualified skiing instructors will tailor your lessons to ensure you're prepared for your trip and that you can ski to your full potential throughout the duration of your highly anticipated skiing holiday.
With all of the skiing equipment at Chill Factore included within your lesson package, you don't have to worry about buying equipment and you can just focus on developing your skills and confidence.