What age can kids learn to ski? A Guide to Introducing Your Little Ones to the Slopes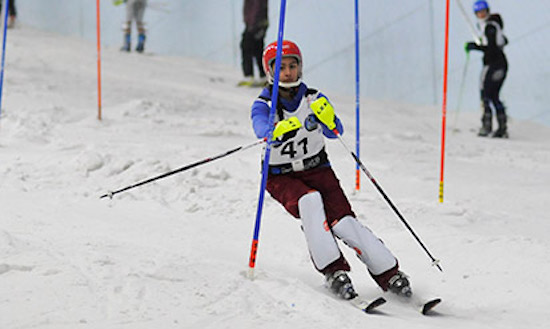 If you're an avid skier, it's likely that you'll want to take the family on ski holidays as much as you can. Or, perhaps you're just looking for an activity you can share together as a family. It's important that your children get lessons and lots of practice before they take to the slopes. But, at what age can kids learn to ski?
Here at Chill Factore we have a range of lessons for all ages, perfect for readying budding skiers of almost all ages for their first skiing experience on real snow. We pride ourselves on delivering top quality ski lessons at reasonable prices to make sure everyone is skilled, safe and having fun on the piste. Read on to find out more about our kids ski lessons and much more.
Ski Lessons at Chill Factore
Getting your children confident on skis at an early age gives them a skill for life. At the Chill Factore we offer ski lessons for 4 years old. The sooner they are comfortable on skis, they'll have more fun and feel much safer on the slopes. Learning at Chill Factore has a host of other benefits too:
Our instructors are experienced professionals who know how to make your children feel comfortable and stay safe on the slopes.
We make our ski lessons as accessible as possible for all ages, keeping everybody safe whilst building confidence and ability.
For Toddler ski lessons, there will be a maximum of 3 children per instructor in the class. This allows our friendly instructors to keep a close watch on their development and safety.
Kids ski school lessons include the hire of skis, boots and helmets as well as the instruction on the slope.
We understand that each child is different. Everyone learns at a different pace. That's why our qualified ski instructors will discuss your child's progression and development on the slopes, keeping you well informed and updated at all times. They can also suggest additional activities for your child's development, such as extra lessons or one-on-one support. You can rest assured that your little ones are being safely looked after on the snow by experienced, qualified professionals. You can relax and watch their progress for yourself from our viewing balcony in our Lodge Bar and Kitchen.
Lessons for All Abilities
We can offer 2 different types of lessons for your children, as a group or a private lesson. Whatever you choose, you can be confident that you're giving them a learning environment that suits them best.
Private Ski Lessons
Private ski lessons are available for skiers of all abilities, including young children. They're perfect for getting a head start on your child's learning or honing the skills they are working on in their group lessons. Our Private lessons posses one on one tuition, this is a great way to quickly build your child's confidence on the slopes.
We provide 30 minute or 1-hour long lessons on both the beginner slope as well as the main slope. Private ski lessons give your child the chance to advance quickly and have fun, building rapport with their instructor. They will be able to see their progress grow rapidly, giving a huge boost of confidence and an appetite for more!
Junior Group Ski Lessons
Alternatively, we offer junior group lessons for children, starting at 4 years old and going all the way up to 11- to 16-year-olds. Our beginner lessons are aimed at children with little or no experience. Your child can get the benefit of learning as a group, sharing the fun together and making new friends.
They will always be learning with children of similar ability and our group classes have a maximum 3:1 ratio of participants to instructors. We keep the class sized small so every child has the best chance to learn and our instructors can monitor their progress and safety carefully.
The Snow Park
If you're thinking of introducing your little one to skiing, the Snow Park is a great way to familiarise them with the slopes before getting them started on ski lessons here at Chill Factore. We have a range of exciting activities for all ages starting from 4 years old. Parents can join in on the fun too with our thrilling slides and rides for you and the kids:
The Ice Slide - Tackle the twists and turns of our speedy ice slide.
Downhill Donuts - Ride the slopes in large single or double inflatable rubber rings. Speed down the lanes and race for first place!
The Sledge 'n' Slide - Race your friends to the bottom of our real snow slope.
The Snow Park makes for a fantastic family day out all year round. Along with the skiing, lessons and Snow Park there's a place to shop, eat, drink and relax. You can spend the whole day enjoying Chill Factore, even if you're not going to ski, though there is somewhere to book your next family skiing holiday, if you're feeling inspired.
Join Us
We have something for all the Family here at Chill Factore. If you're looking to get your children into skiing, then look no further. There are some great savings to be made with some of our package deals too. Becoming a member is a cheaper and more convenient way of enjoying all we have to offer. Junior memberships cost as little as £90 and earn you 30% off all activities, including the kid's ski school.
We are the largest, real snow indoor ski slope in the UK. If you're looking to get your children into skiing for upcoming family holidays or you want a family day out where there's something for everyone, we've got that too. Take advantage of our lesson packages this summer, with savings on ski and snowboard lessons for kids between April and September 2023. 
If you want to find out more you can email us at info@chillfactore.com, call us on 0161 749 2222 or use the chat function on our site to get your questions answered. We're looking forward to seeing you!