Why choose Chill Factore to have a kids' party?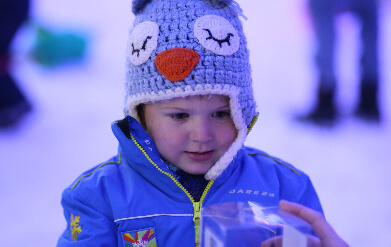 If you are sick of the same old-style children's parties and looking for something a little bit different for your kids then we might have the answer.
Gone are the days when having a party meant a visit to the local centre with a bouncy castle with a slice of cake. These days everyone is looking for something unique to make their children's special day memorable.
While the battle for the best birthday bash has commenced, we can help you stay ahead of the game. At Chill Factore, we have a series of party plans that you may not have ever considered before.
What is included in a Chill Factore Party?
Chill Factore parties involve a variety of fun-filled activities which will allow children to experience a cool and exhilarating birthday. There is a variety of packages from Snow Park parties where children can whizz alongside friends and family on sledges, tubing lanes and an ice luge to snowsports parties where children can experience skiing or snowboarding for the first time. 
What makes the party unique/unusual?
These parties are unique as they take place on real snow in our premier indoor ski and snow centre. There is no other place in Manchester that can throw a party on real snow, no matter the weather and no matter the day.

How long does a party last and cost?
Our party packages vary from £7 per child to £21 per child. We can cater for parties with a minimum of 10 children. This covers the cost of the party along with 45 minutes on the snow.
If you would like to dine after your snow experience, you can upgrade your party for an additional £7 per child to a party with food. These vary from a standard menu through to a superior menu. (Various prices apply).

Do the children get a gift or party bag?
Party bags are an optional extra. Children can enjoy a treat to take home with them after their snow adventure.
Find out more about our parties.