How to parallel ski with Chill Factore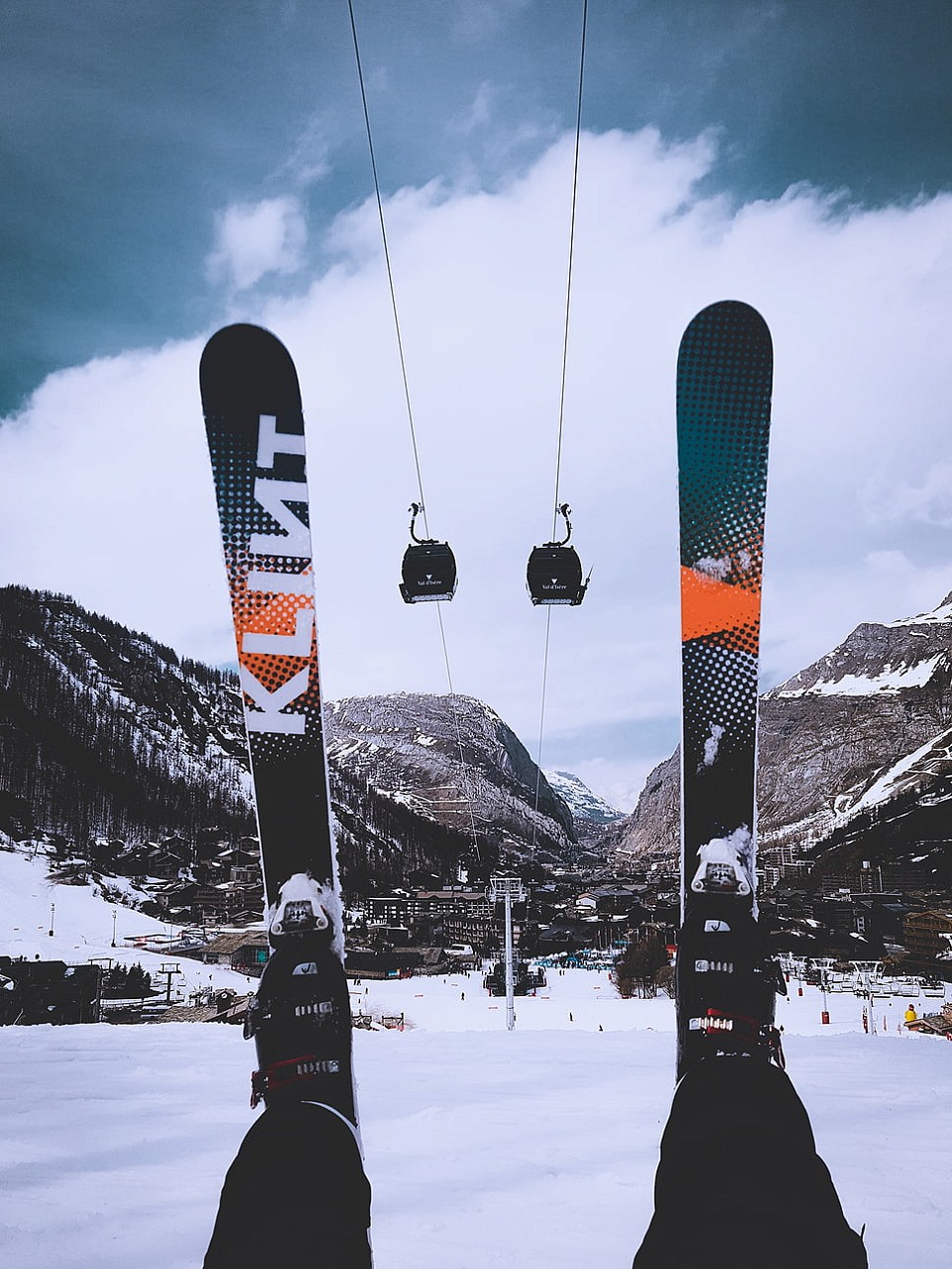 Parallel skiing involves three steps: the initiation, the edge change and the finish
The initiation means turning the skis so they are travelling straight.
The edge change means swapping the edges which are pushed into the snow.
To finish, turn through and out of the fall line to complete the turn and control your speed
We've put together a useful guide for beginner level skiers looking to become more advanced. Here, you'll learn not just how to parallel ski but key skills such as controlling speed and balance on skis. Although it can take time to perfect, knowing how to parallel ski will leave you with a more efficient and enjoyable ski technique overall.
Here at Chill Factore, we recommend that our skiers only begin learning how to parallel ski once they're confident enough to ski at a medium pace. Also known as carving, parallel skiing is an intermediate technique that involves keeping the skis parallel to each other at all times. Basic skiing techniques such as the snowplough are rarely used out on the slopes once our skiers can confidently perform a parallel turn. As such, this is the point where real skiing begins.
The basics of learning how to parallel ski
Parallel skiing involves three steps: the initiation, the edge change and the finish, which is achieved by turning through and out of the fall line. The initiation involves turning skis so that they are travelling straight. This decreases the pressure on the edges, so they can be changed. The edge change is the actual swapping of which edges are pushed into the snow. Finally, the finish involves turning through and out of the fall line, which completes the turn and controls your speed simultaneously.
Before you're ready to learn how to parallel ski, it's important that you master the snow plough technique. This is because parallel skiing is the natural evolution of the snow plough. As such, you can use your knowledge of snow plough to inform progression into parallel turns. If you've snow plough turn and your body position is working for you, the ski will come in parallel. Once you've turned, commit to the downhill ski and you'll feel ski come to drift in.
Once it's come in parallel, fully commit and balance on the downhill ski. If your turn doesn't feel ready to come in, don't force it. Instead, wait until it feels ready. If you try to twist your body position and force the turn, it will go wrong and uphill ski will stick in the snow. Instead, keep your balance and look for your next turn. This will help open the knee and let the ski slide in nice and smooth. Feel the weight come off your ski and then open the knee. A good parallel turn shouldn't be something you've got to force, it should come naturally. At this point, you'll probably be starting the turn with a snowplough to get around the corner and once your body position feels right, you'll notice the skis sliding in quite easily. In order to keep skis parallel all the way through the turn from beginning to end, you'll need to make this happen earlier.
To get the ski to go around the whole corner parallel, you need to be able to commit earlier to the outside ski. As you become more confident and pick up speed, open up the knee and let your skis roll in to achieve this. A useful tip when learning to parallel ski is to try standing on the top ski, rolling it flat and let the skis come round the first part of the corner by themselves. This movement will help to create a nice, natural and parallel finish. As a combined movement, let weight come off the downhill ski and onto the top ski as it rolls onto the new edge. You should be able to feel the weight come off the downhill ski as you stand on the top ski to help inform your movement.
If you find this difficult, it might be because you're not changing the edge as you're changing the applied weight. As you stand on the top ski, roll the ski flat and gently over to the inside. This will help the skis start to come round much smoother. The second you begin transferring weight, roll the ski over and it will start to turn with ease. Remember, this is a combination of standing on the uphill ski and rolling the ski over onto the new edge. As you do this, you'll notice the snowplough has disappeared and your skis will stay parallel throughout the turn.
Controlling speed on skis when learning how to parallel ski
When learning how to parallel ski, it can be difficult to control your speed without completing your turns properly. As you point the skis downhill at the start of turns, you will unavoidably pick up speed. What can be changed is to turn gradually before you start, so you feel happy with your speed before starting the next one. When learning how to parallel ski for the first time, you might feel like you've done a bad turn, but that's usually because you haven't controlled your speed enough.
To avoid this, make sure you've completed your turn before you start the next one so that you feel confident and in control of your movement. Your parallel turns should have a nice rounded shape with no sudden movements, with a nice smooth blend between the turns. Stand on top ski while rolling the edge over and let skis come round naturally. Use curving s-turns to control speed. Remember, the key to controlling speed for parallel skiing is not to force or rush the turns, they should be linked together as smoothly as possible.
Controlling balance on skis when learning to parallel ski
A notable effect of parallel skiing is how much your balance changes with speed. With your skis parallel and hip-width apart, you have less balance at lower speeds because you're keeping your weight within a smaller area. In order to control your balance on skis when learning to parallel ski, use the reactions from the skis to help you. If you find you're going too slowly, it's hard to control balance. However, as soon as you apply more speed, any small movements can have a larger effect and make it easier to control your balance when parallel skiing.
Learn to ski like a pro with Chill Factore
While reading articles certainly helps, the best way to learn how to parallel ski is to get out on the slopes and practice. Fortunately, Chill Factore has the UK's largest indoor snow slope, meaning you don't have to fly to the Alps. Instead, why not book a ski lesson and perfect your parallel skiing technique in a fun, relaxed environment? Our friendly instructors are raring to help you to advance your skills and help you to master parallel turns. Book one of our Main Slope Lessons and learn how to ski like a pro with Chill Factore!